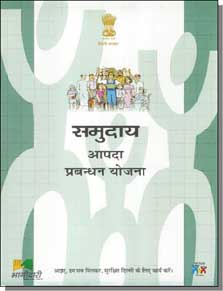 IT & India Disaster Resource Network (IDRN):
More than 1000 records of equipments, skilled manpower and critical supplies have been fed in by the 9 districts of Delhi.
A two-day sensitization on DRM programme and IDRN is organized. The Deputy Commissioners and Additional District Magistrates from all nine districts of Delhi had participated in the interactive sessions and presented their valuable suggestions for smooth implementation of the programme.

Chemical Disasters:
Regarding Chemical Disasters, the Government of NCT of Delhi has been regularly following up with the Local Crisis Groups and the District Crisis Groups. The Deputy Commissioners have been requested to identify school buildings/ Safe places in their respective districts which may be used for the purpose of rescue and relief operations during sudden crisis in the area.
Offsite Emergency Plan for chemical disasters is also being finalized. The nodal ministry for chemical disasters is Ministry of Environment & Forests, GoI and conduct of the mock-drill by rotation every month in districts is also proposed in the plan under finalization. A core committee to monitor these drills will also be formed with DC (HQ), DC (South) & Chief Fire Officer as members.